Our Board of Directors looks at the big picture, guiding and supporting Make.Shift's staff,  and providing checks and balances by holding us accountable to our mission and our financial plan.
Jen Castaldo, Chair
Jen went to school for Biochemistry at the University of Wisconsin-Madison, then traveled to Portland and started a marketing degree at Portland Community College before making her way to Bellingham in 2006. She fell in love with the music scene and has since worked in public relations and marketing for various local venues, in addition to writing for What's Up! Magazine. Jen has volunteered with an incredible array of local organizations, including Sustainable Connections, The Whatcom Volunteer Center, Grow Northwest, Lions Camp Horizon, The Mt. Baker Theater, The Pickford, Recreation Northwest, The Bellingham Senior Center, Subdued Stringband Jamboree, and of course, Make.Shift.
Kacey Morrow, Secretary

Kacey Morrow is an Associate Professor at Western Washington University, teaching in the Department of Design with a focus on motion graphics, digital video, web and interaction design. Speaking at conferences such as, University Film and Video Association, Design Principles and Practices and Massaging Media 2: Graphic Design Education in the Age of Dynamic Media, she stays involved in discussions about the design field and lectures about her work in experimental video.
Her award-winning videos have appeared in several film festivals and exhibitions nation-wide including the highly acclaimed Seattle International Film Festival and Atlanta Film Festival. She also co-wrote the third edition of the textbook, 'Producing for TV and New Media' with Focal Press. She has printed and digital works published in the literary journal 'Ninth Letter.' These editions of 'Ninth Letter' were featured in Print Magazine Regional Design Annual, How Design, Step Inside, and SXSW Interactive Web Awards. Prior to teaching, she also has years of professional experience in Chicago as a motion, print, and multimedia designer at various production houses.
Autumn Callaway, Treasurer
(Pic and bio coming soon!)
 Amy Marchegiani, Board Member
Amy Marchegiani has lived in Bellingham for 25 years and has always been a supporter of the live local music scene – attending performances, making logos, posters and other merchandise for bands, and playing bass in Everybody's Debbie, USS Horsewhip, '76 Charger, Sugar High Mustangs, and (currently) Cat Bomb She worked as a senior graphic designer for several local businesses, including Grizzly Industrial, Allsop, and McNett, and was a co-founder of What's Up Magazine . Amy is now teaching art, science and life skills atHomeport Learning Center. She also teaches a wide range of art styles and techniques at Western Washington University and Bellingham Art.
Sean McKee, Board Member
Sean has been involved in the Bellingham music scene since 1996, playing in a long list of local bands, booking several self-promoted U.S. tours, and performing in every type of venue the country has to offer. A WWU graduate, Sean currently plays in local bands The Narrows and WorldRunner.  Sean currently works as a criminal defense attorney in Bellingham, focusing on the defense of criminal misdemeanors.
Hollie Huthman, Board Member

Hollie Huthman is co-owner, booker and manager of The Shakedown in Bellingham, WA. Aside from running a music venue, she has been involved in the Bellingham music community for over a decade as a musician (currently in the band Dryland) and live music photographer.
Sarah Jerns, Board Member

(Pic and bio coming soon!)
Steven Sehman, Board Member

Percussionist Steven Sehman specializes in the performance of cross media works. His performance at the 2012 Gaudeamus Muziekweek NYC was praised by Alex Ross (The New Yorker): "Steven Sehman…made the room shimmer with a fantastic range of timbres." Prior to moving to Bellingham in 2013, Sehman resided in New York City, where he performed at prominent venues including Le Poisson Rouge, Issue Project Room, Galapagos Art Space, Merkin Hall, Symphony Space, and the Park Avenue Armory. Sehman currently teaches in the Audio and Society program at Fairhaven College of Interdisciplinary Studies (WWU).
Make.Shift Advisory Board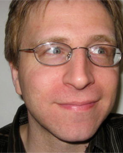 Bruce Hamilton

Bruce is an Associate Professor of Music at Western Washington University. He co-directs the Bellingham Electronic Arts Festival, in addition to the Bellingham special events organization Sound Culture. Bruce is also on the Board of Directors of the Washington Composers Forum, an administrator for online music community ImprovFriday, and owner of net label Spectropol Records. Did we mention he's also a freelance composer and musician?
Russel Fish
Russ Fish has been recording, mixing, composing, and producing music and music videos in studios, homes, stages, and garages for the last 9 years. He graduated from WWU with a music major and accounting minor. Currently, he balances his adjunct faculty duties at Fairhaven College with freelance audio engineering, playing in various music groups (Ruby Parasols, Excavator) and being a husband and father. Russ teaches four of the audio engineering courses at Fairhaven College and manages the Fairhaven Recording Studio and Mixing Suite.